Today (November 10) is my little brother's birthday.
Happy Birthday, Geoff!
And here is my gift to you all in three parts. (Like Caesar and that thing with Gaul):
The funniest series of book reviews EVER (except for one grump):
Regarding this book,
Energy Technologies
. Please, after you pull yourself up off the floor when you see the price, do read the reviews. Then come back here and finish reading my blog post and tell me how much you laughed or something so I don't feel like a total loser.
Now seriously, is the price of a mass market paperback like any of those fine books along the sidebar there, including, I might add,
My Wicked Enemy
which yours truly wrote, really all that much? I think the answer is no, it's actually not all that much. Why, a mass market paperback is a deal and a half! Puts things in perspective, eh?
Are you not feeling renewed in your faith in humankind after reading those reviews (except for the Grumpy Student). Because this totally made my day.
Funniest Twilight Review
There was a second bit of humor I chanced across today. This:
the best review
of the
Stephanie Meyer's
Twilight
series EVER.
NOTE
: if you don't like strong language, then you might want to skip this review, although for something on
attrition.org
it's pretty mild.
Funniest Deal with the
Devil
But wait! There's more! People, today was a trifecta of humor brought to you by the best web comic around (IMHO, okay?)
xkcd.com
: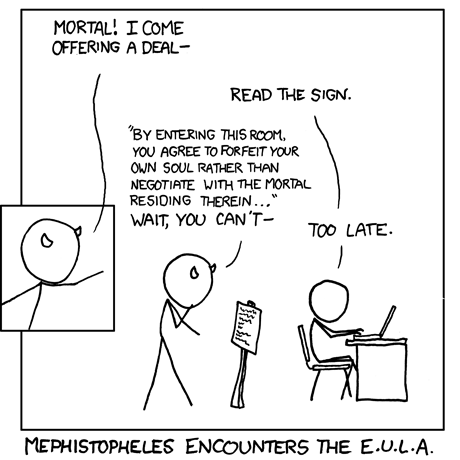 ohmygod. I am such a geek.
OK, so maybe I didn't solve everything. I can't afford
Energy Technologies
but maybe you, or someone you know, can. And then you'll solve a lot of stuff. Or maybe have a DIY nuclear rector in your backyard.
Right. You're free to go. If, when you do, you decide to pick up a book by one of the fine authors of Grand Central Publishing on the way, that would pretty darn cool of you. And really, who doesn't want to be cool? If you're cool, what else do you need?
See? I did solve everything.