So, in the middle of the night a terrible thought occurred to me. Not only has Diana Holquist admitted publicly to not knowing who HUGH JACKMAN is (see post below), but in the process she's revealed that she's missed some of the great cinema of the last few years. How, for instance, could she've seen X-MEN 1, 2, or 3
without
finding out who Hugh is? She couldn't've.
Oh, Diana!
Therefore, I've put together a little primer for Diana. Diana? Are you reading this? Pay close attention:
One of Hugh's early works was of course in the iconoclastic PAPERBACK HERO in which Hugh plays a truckdriver who writes romance novels. Really.
Hugh continued with his realist portrayal of Every Man with SWORDFISH in which he played a computer expert. In a towel.
What? Don't all the computer nerds
you
know look like Hugh?
Then Hugh made s stunning artistic choice by taking the role of Wolverine in X-MEN.
Note the subtle use of body oil to highlight Hugh's impressive biceps!
In between various X-MEN Hugh played the title role in VAN HELSING. While not a critical success, VAN HELSING did include Hugh's now signature scene in which all his clothes are torn off except for a wee bit fabric around his loins. Rhoar! Unfortunately I couldn't find a photo of his signature scene from VAN HELSING, so we'll just have to make do with a fully-clothed Hugh: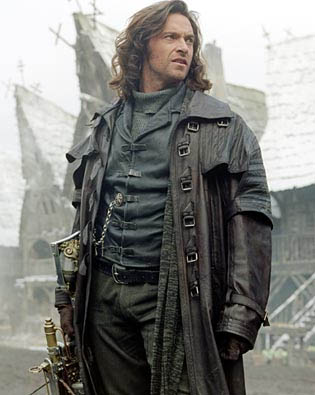 Currently, Hugh is starring in AUSTRALIA, which I haven't seen. But judging from this pic I found Hugh rides a horsey and has a really big whip!
Also, I believe Nicole Kidman stars in the movie. Whatever. What inquiring minds really want to know is this: will Hugh have his signature scene in AUSTRALIA?
Cheers!
Elizabeth Hoyt
www.elizabethhoyt.com
www.juliaharper.com